FITEK Elite Adjustable Bench 3.0: The Benchmark of Excellence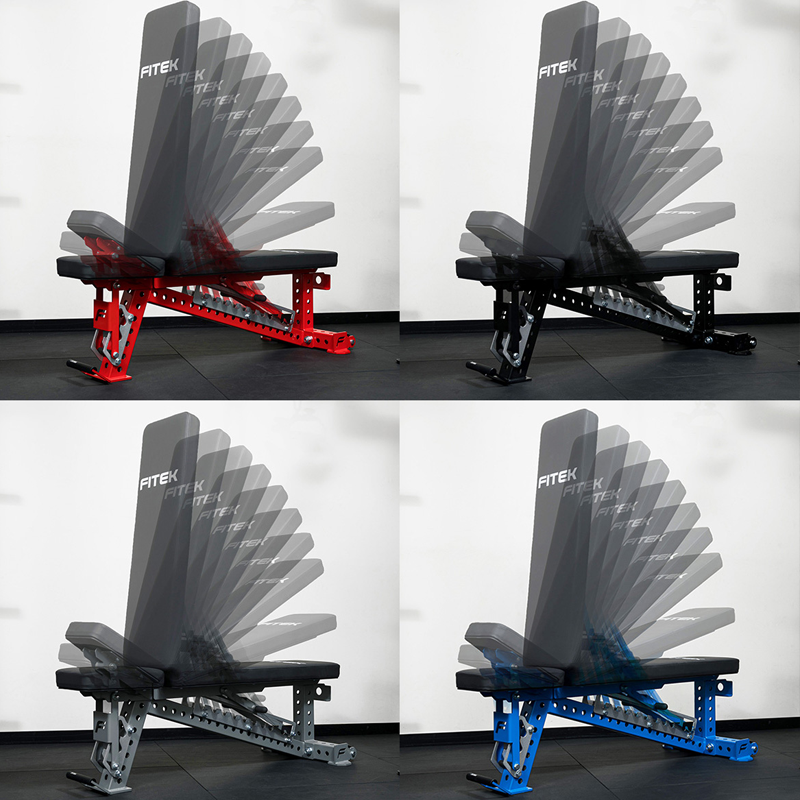 The quest for the perfect adjustable bench often sees fitness enthusiasts deliberating over countless options. FITEK Elite Adjustable Bench 3.0 encapsulates everything one would desire in a premium quality gym equipment, blending aesthetics with unparalleled functionality. Let's explore the key features that set this bench apart:
1. Effortless Storage:
Space-savvy fitness enthusiasts will appreciate this bench's unique upright standing feature. Thoughtfully crafted, the padding remains untouched by the floor, ensuring its pristine condition over time. While some benches might stand upright, the FITEK Elite Adjustable Bench 3.0 does it with conviction and elegance.
2. Designed for Mobility:
Despite its robust 55kg frame, moving this bench is a cinch. Equipped with a pair of robust wheels, navigating tight spaces becomes a hassle-free task.
3. The Signature Knurled Handle:
Beyond aesthetics, the handle's knurled texture ensures a secure grip, while its strategic positioning promotes easy mobility.
4. Versatile Adjustability:
Its adaptability is second to none. With 10 upper pad settings and 3 seat angles, it offers an unmatched range of configurations. Laser-etched angle indicators ensure accuracy, backed by a cage ladder system for added stability.
5. Supreme Comfort:
The bench's padding strikes a harmonious balance between firmness and comfort. Premium quality upholstery promises durability and superior grip, while the minimal gap between pads ensures ergonomic support.
6. Elite Powder Coat Finish:
This bench boasts a top-tier powder coat, applied meticulously both inside and out, promising enhanced durability and resistance against wear and tear.
7. Unwavering Stability:
Stability is paramount, and this bench delivers in spades. Its unique design, complemented by rubberized feet, not only protects your floor but also ensures a steady foundation during workouts.
8. Aesthetic Mastery:
Beyond its functional prowess, the bench is a visual masterpiece. Its contemporary design is a sight to behold in any gym setup. And with four enticing color options, there's one for every taste.
In Summary:
The FITEK Elite Adjustable Bench 3.0 reaffirms the brand's dedication to quality and superior craftsmanship. It's more than just a piece of equipment; it's a partner for those committed to achieving their fitness goals.